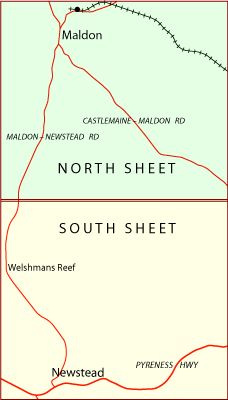 Muckleford Forest – Walking Tracks Map.
Introduction
The area known informally as the Muckleford Forest, stretches some 13 kilometres north to south and 7 kilometres east to west. It is located in Central Victoria, Australia, west of Castlemaine and between Maldon and Newstead. Formally it is composed of the Maldon Historic Reserve, the Muckleford State Forest and the Muckleford Nature Conservation Reserve.
CCM provides a topographical map in two sheets that cover the bulk of the forest. Each map sheet has its own webpage and can be accessed by clicking on the image on the right or expanding the Muckleford menu item. The map sheets align north-south with an on the ground overlap of about 60 metres, equivalent to a map overlap of a few millimetres.
Hazards
There are mine shafts within the Muckleford Forest. Travellers should take care.
Muckleford Fault
The Muckleford Fault was responsible for the formation of the Muckleford Valley and runs along the eastern edge of the Muckleford Forest. Brian Cuffley has produced a comprehensive geological description, The Geology of the Muckleford Valley (PDF 7 Mb), of the fault and the neighbouring areas.
File formats and data
Each map sheet can be downloaded as a PDF file intended for printing at A3. Information on the use of KMZ and GPX files with Google Earth and GPS units can be found via the Appendices dropdown menu in the header.
Community groups associated with the Muckleford Forest
CCM has received encouragement for the Muckleford Forest map from:

Resources accessed in the preparation of the Muckleford Forest map sheets
The principal resource is simply boot leather; if a road or track within the formal forests is indicated on a CCM map then CCM has walked it. (With the exception perhaps of the full length of Pullans Rd.) Dams within the formal forests have been individually mapped. Data for dams in non-public areas have been drawn from other DELWP sources. Other resources that have been used in the construction of the map sheets are:
Caveat
A map is a graphical representation of a geographical actuality. However, though some maps are more representative than others, no map is absolutely correct. The maps on this site are not exempt from this rule.