C C M –
R
i s e a n d
S
h i n e
Caveat
A map is a graphical representation of a geographical actuality. However, though some maps are more representative than others, no map is absolutely correct. The maps on this site are not exempt from this rule.
Rise and Shine Bushland Reserve Walking Tracks Map
This map covers the Rise and Shine Bushland Reserve and the adjacent Pickpocket Diggings Heritage and Cultural Features Reserve several kilometres south of Newstead, Victoria, Australia. There is a self-guided interpretive walk of about 3.5 km in the reserve and information leaflets are available in a box at the Ramsey's Lane entrance.
The intended hardcopy format (as PDF) for the map is A4. It can be formed as a leaflet format by folding the left edge of the sheet forward to the guide marks between the main map and title section and then folding that section back.
Information on the use of other files provided by CCM can be found via the Appendices dropdown menu in the header.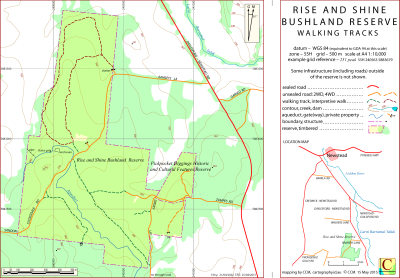 Updates
23/09/2015 – Error in legend corrected – 'A3' replaced by 'A4'.
26/06/2017 – Error in contour text corrected – an instance of '270' replaced by '290'.
Rise and Shine Reserve Walking Tracks Downloads
| | |
| --- | --- |
| Single-sided PDF map for printing at A4 (0.2 MB) | Download |
| KMZ file (2.4 MB, 12 tiles) | Download |
| Some points of interest as GPX file (2 kB) | Download |
| Listing of above POIs as PDF file (30 kB) | Download |
| OziExplorer file set (details) (< 1 MB) | Download |
| Geotiff file (20 MB) | Download |