Post Office Hill Reserve Walking Area Map
This map covers the Post Office Hill Reserve at Chewton, Victoria, Australia. It also includes the site of the Monster Meeting and part of the southern reach of Forest Creek. The Post Office Hill Reserve does not contain any formal walking tracks of significant length but the open terrain and several roads allow ready access to most of the Reserve.
The Post Office Hill Action Group provided comprehensive background material for the production of the map, however, the entirety of this web page and its contents have been created by CCM (entry page).
The intended hardcopy format (as PDF) for the map is A3, though it is usable at A4. It can be presented in leaflet format by folding the sheet in half with the map on inside and then folding each side back (that is, with the map on the outside of the fold) in a concertina fashion.
The map is also available in two KMZ versions – medium and high resolution. Each KMZ version of the map will open in in Google Earth, though there is little advantage in using the high resolution version. The opacity control in the Google Earth sidebar can be used to see how the map features correspond with the Google Earth image. The KMZ versions of the map (the high resolution version will give better detail) can be loaded into Garmin GPS units(and perhaps other GPS devices) with map display capabilities.
GPX file of points of interest (waypoints)
Points of interest, POI, also known as waypoints identify salient points within the map for navigation or interest. The POIs for the Post Office Hill Reserve are provided in two file formats, GPX which is suitable for loading into Google Earth or GPS units, and a PDF suitable for printing as a hardcopy. (A hardcopy may prove a useful supplement to the digital file as the POI descriptions are more readily accessed.)
For more information on KMZ files, GPX files, Google Earth and GPS receivers refer to MapToGround Resources.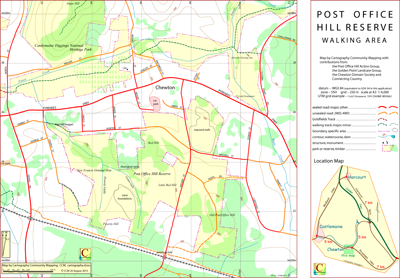 Other maps of this area
Exploring Chewton, an excellent visitor's guide, is available from the Chewton Community website. The CCM map, Welsh Village, overlaps (at a smaller scale) the northern part of the Post Office Hill Reserve map, while the map, The Monk, overlaps (at a smaller scale) the southern part of the Post Office Hill Reserve map.
Updates
11/09/2016 – Pine plantation to west of CFA shed removed to match current conditions.&nbsp Chewton primary School and Dogleg Reef included.
Post Office Hill Reserve Walking Area Downloads
| | |
| --- | --- |
| Single-sided PDF map for printing at A3 or A4 (0.3 MB) | Download |
| Medium resolution KMZ file (2.0 MB, 6 tiles) | Download |
| High resolution KMZ file (5.2 MB, 20 tiles) | Download |
| Some points of interest as GPX file (7 kB) | Download |
| Listing of above POIs as PDF file (47 kB) | Download |